Catholic Social Media Management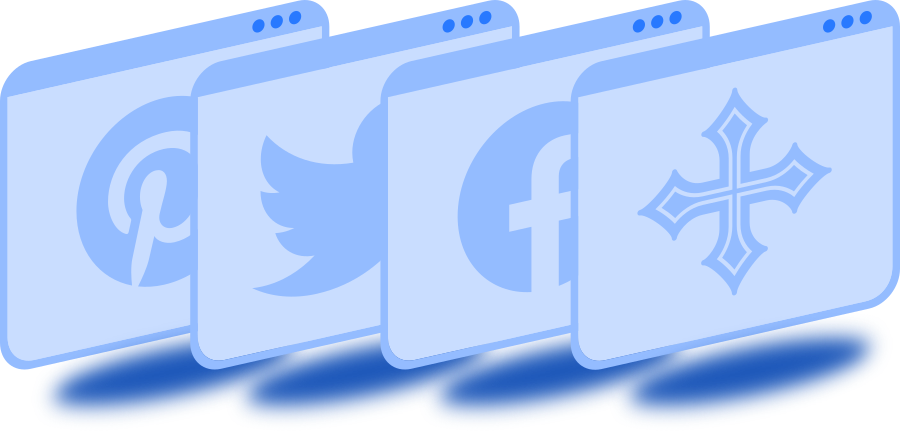 Is your social media page lying dormant?
Put it to work!
We provide regular posts, original and carefully curated, to engage and inspire your followers to deepen their faith.
Choose a level of service which fits your needs:
* See more information about service levels below; plans are billed annually.
Stop Worrying about Social Media!

3-6 Posts per week

Beautiful and Inspiring Catholic Content

1 Social Media Account
Parish Plus
Keep Parishioners Informed
All Standard Content

PLUS

Weekly Bulletin Link

Special Mass Times (Holy Days, etc.)

2 Social Media Accounts (total)
Parish Gold
Custom Content
All Parish Content

PLUS

3 Additional Custom Posts / Week

3 Social Media Accounts (total)
We post at least 3 times per week, frequently (if not most weeks) posting more often, depending on the calendar.
All content that we post is squarely Catholic. The majority is original to Impressus Art, but we frequently curate quality content from other trusted sources.
We strive to post only content that is not politically divisive. We avoid posts regarding Church politics, and only post anything dealing with civic politics when it is a very important news item.
Will will post various types of content, including:
Images and quotes from saints on their feast days
Current articles on spirituality, etc.
Vocation awareness and promotion
Prayers, especially from the liturgy
Some examples of sources for our posts:
Papal and magisterial texts
Liturgical and Scriptural texts
CNA or other trusted news sources
The writings of Fathers of the Church, saints, and other solid Catholic writers
We can manage most common social media accounts:
Facebook
Twitter
Instagram
Pinterest
Tumblr
LinkedIn
It is possible to manage other accounts – contact us for more info.
You send us the link to your bulletin that has been posted online each week, and we'll post it. Also, when you have alternative Mass times for special occasions, we'll post those to get the word out.
You get all the benefits of "Standard" & "Parish Plus" Levels, and also…
We will post up to three additional times per week. You send us a graphic, video or text and tell us when you want it posted – it's that easy!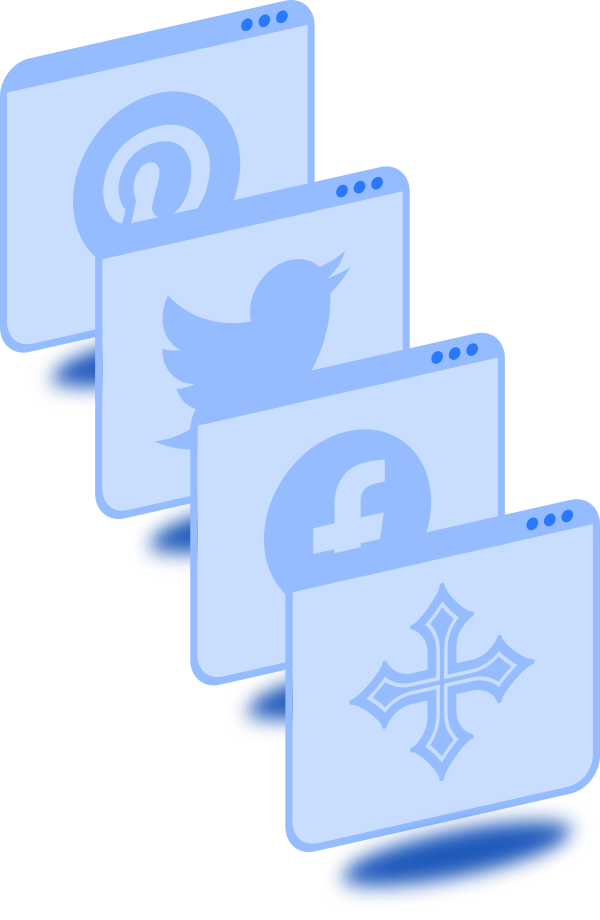 Why is Social Media Important?
Social media platforms can help you more easily connect to people in your parish or organization. Social media offers the opportunity to quickly connect to many people at once on a platform where they are already spending time.
But there are added challenges of reaching them through the curtain of many other voices.
With Impressus Art Social Media Management, you can solve some of the challenges. Because we provide timely and inspiring content on a regular basis, your posts will show up more frequently. Your audience will be more likely to respond with views and likes, and therefore your content will more frequently show up in their feeds.
If you have questions, we would be happy to try to answer them – just contact us!
Joshua at Impressus Art has really improved our parish's ability to reach the digital community. Parishioners are praising how easy it is for them now to check out Mass times, events, cancellations, and so on by simply checking the Facebook page or our website. This was really a good move for the parish and the service is way more than the cost!
Sign Up or Get More Information
Fill out the form below to begin signup or to get more information. We will contact you as soon as possible with information or to finalize your Social Media service.
You can also call use at (317) 426-0234.